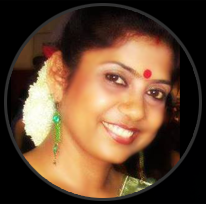 Rupa Upadhyay is one of the most graceful dancers in the 'Creative dance circuit' of Kolkata today. She has flowered under the direct guidance of the renowned dancer Smt Tanushree Shankar.
She is also a brilliant Elocutionist. While her initial training was under Sri Debdulal Bandyopadhyay, her talent have further been nurtured under the expert guidance and mentorship of Smt Bratati Bandyopadhyay and Shiv Shankar Ghosh.

Today Rupa is an accomplished performing danseuse and trainer. In her "Nrityavatar" she has, to her credit, numerous solo performances throughout the country and in various media. She is also the Co- founder and the soul of 'SRIJAK', an institution specializing in both her area of strengths - creative dance and elocution. Along with her husband Sri Goutam Upadhyay, Rupa and their team have created a complete cultural ensemble comprising a harmonious blend of dance, poetry, songs and music.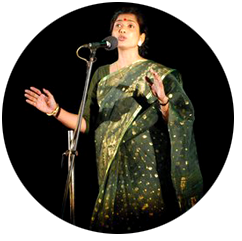 Rupa is indeed a true flag-bearer of the rich legacy of the legendary Uday Shankar Style of dance who aspires to carry forward the glorious tradition through her performances and her wards. Her rich elocution in true contemporary genre has also enveloped a vast literary canvas truly that has taken both her as well as Srijak to completely new achievement levels.
Among her memorable performances, ones that stand out are those for Kolkata Doordarshan, at the Wills World Cup, 1996, Youth Festival, Kolkata. She has also proudly represented the National Cadet Corps (NCC) brigade that won the 'Best Turn-out' award at the Republic Day Celebrations, 1989, Delhi. She's indeed a complete cultural package and a pride of whole Paschim Banga.